Some of our American readers obviously like to convert EGGER-BAHN models to »domestic« types... John T. Hubbard reworked an old steam loco in pretty poor condition to a very stylish American looking vehicle. Only specialists still manage to see its German origin.
The picture above shows the tiny EGGER-BAHN steam loco as we know it: upper half in black, lower half in read, everything neatly arranged and hence »typically German looking«. A magazine article by Mike Pearsall dating from the 1960ies inspired John to his special »Americanization project«.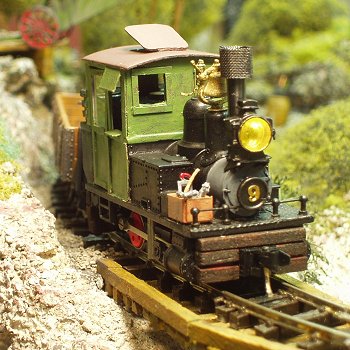 And here's the result of the rework: bell and whistle, a wooden engineer's cab, a wood burner's chimney and a huge lamp in front of the machine. Welcome to America!
John also did a great job in documenting his unique project with lots of pictures showing work in progress, so a link to John's EGGER-BAHN rework page is all I have to provide here...