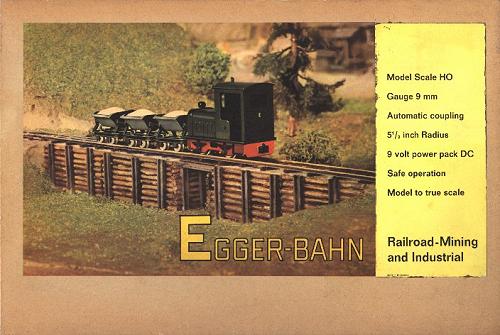 This beautiful package was produced for the American market. I was able to get it home after perhaps 35 years of being abroad. The box survived it's long journey across the Atlantic quite well. But at the Customs Office of Frankfurt Airport, somebody inspected the vintage cardboard box and sealed it again with solid »Customs« adhesive tape! The tape couldn't be removed without damage, of course. I won't comment on this heartless act of violence here...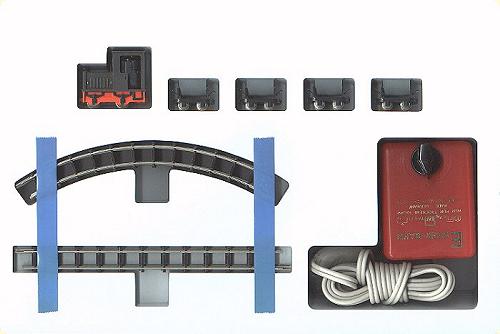 The inner box is made of sold plastic and contains the early version of the short green Diesel loco as well as four little tiltable mining waggons. An oval set of tracks (six big curved tracks and two long straight ones) and a red 110V power transformer (with track connector clip) are included, too. A little leaflet in English offers instructions for use and maintenance.
As far as I know, this was the very first set in existence, the »EGGER-BAHN prototype«: The colour of the power transformer varied according to the destination country and its mains line voltage! Later complete train sets like those pictured below came in blue cardboard boxes with a transparent front, allowing for a view from the outside...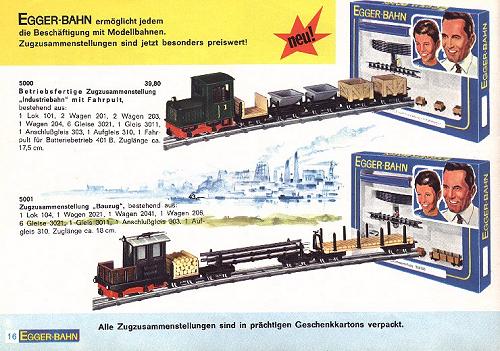 Today, complete EGGER sets in a fair condition are both rare and expensive. But if you can live without the box, it is still possible to acquire a nice little nostalgic train for a few dozens of dollars. Then you can start to transport salt and rice on the top of your kitchen table...