Who would ever have imagined that an EGGER-BAHN enthusiast would realize a large and strong 1:6 scale model, based on a H0e locomotive? Hans-Günter Papirnik has shown that it can be done and we can only admire this masterpiece of craftmanship! But let's have a brief look on the original 1:87 scale model at first: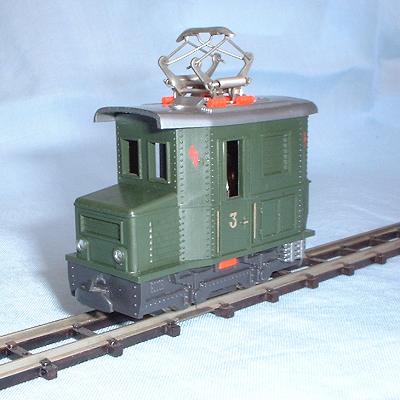 As I personally learned from the creator of this model, Mr. Theodor Egger, he had no real existing prototype in mind for his little engine. Instead, he created a typical model, based on his bare imagination, but comprising numerous typical details. Exactly this was successfully and carefully reproduced by Hannes Papirnik: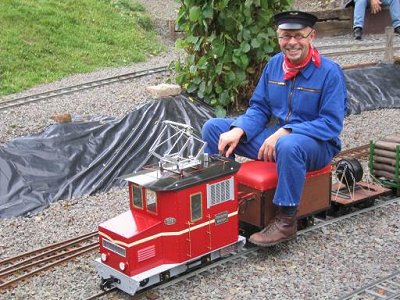 Well, the master has enough reasons to smile: His red locomotive, named »Watchful Roaster« is a real eye catcher!. Let's listen to his words about this astonishing project:
»I am happy to learn that the locomotive is not based on an actual prototype; otherwise I eventually had to introduce a lot of modifications!? My work is based on just a low quality photocopy, taken from the '66 EGGER-BAHN catalogue. From there I took all dimensions, resizing everything to my favourite 1:6 scale. Some details were hard to recognise so that I had to make some compromises just from my fantasy. For my opinion the choice of the colour ruby red suits her quite well.«
»Some more details: My locomotive was mainly built from 5 mm steel plates (undercarriage) and 1,5 mm steel (for the housing). Length of the frame is 65 cm; width is 32 cm. Overall height is some 49 cm without and 72 cm including pickups. As much as possible I did all work by myself, even though I am not a professional craftsman.«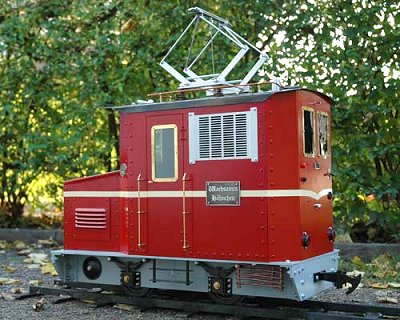 »The locomotive is driven by two 12V/180W truck fan motors via chains and pinions. The necessary electronics was realized by a friend of mine. Time for completion was about 100 hours from April through August 2005. The first photo above was taken on the rails of Huserland near Radevormwald during its inaugural drive on August 20th. The name of the locomotive, Watchful Roaster is based on a train in the Essen Gruga-Park.«

Five years later Hannes surprised us again with his second »full scale« loco: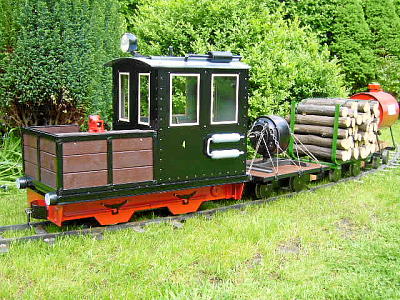 »This small track maintenance train engine had attracted me deeply, so I had to commence its realization in scale 6 for 5" gauge rails. I took the dimensions from my EGGER/Jouef model and constructed the loco from March 2010 through May 2010; mainly using steel sheet.«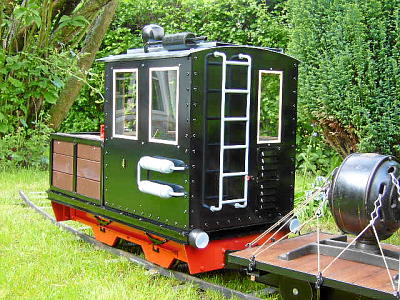 »Length between buffers is 70 cm and its mass is about 36 kg. Two 12 V 180 W Bosch motors are generating power for sufficient speed. Of course, the »front patio« has been made of wood and was enhanced by some details such as bench vice, tool box, seating bench and an oil barrel. With a few lorries attached, one has a track maintenance train set, like on an EGGER-BAHN.«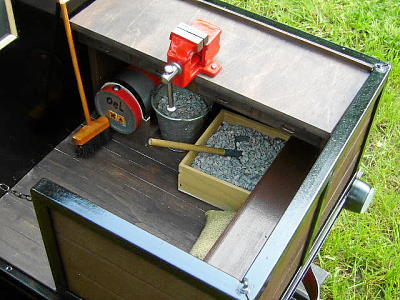 »The appearance of this optically special engine is always creating appreciating smiles on the visitors' faces. What else do we want?«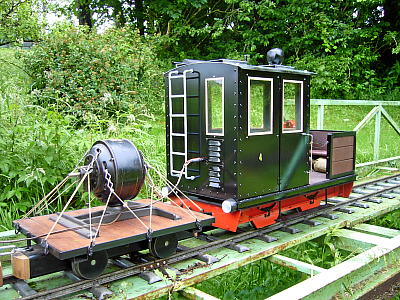 Indeed, what else could we possibly want? »Rescuing« the typical EGGER-BAHN appearance into larger scales, the constructor has really achieved a magnificent goal. Maybe he is about to »transform« more locomotives of the original EGGER-BAHN assortment? We are eagerly looking forward!
Hannes Papirnik would be pleased receiving questions from our audience. Maybe someone else out there has dedicated himself (or herself) to a similar project already?