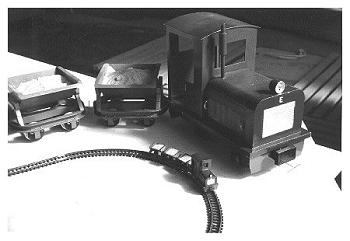 Mini and Maxi: demonstration models of the EGGER light railway
At the already world-famous toy fair of Nürnberg, Bavaria, the young EGGER company presented their first light train models in February, 1963. Next to the tiny Diesel loco towing a couple of mine cars (still on standard N gauge tracks of another manufacturer), the amazed audience could see a handmade demonstration model which was five times as large!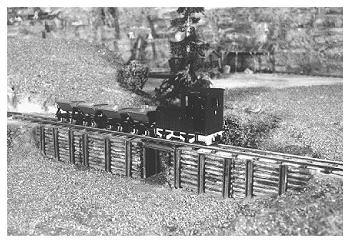 The original: The first demonstration layout at the Nürnberg Toy Fair
Here you can see a small portion of the layout which had been built by EGGER especially for the 1963 toy fair. A similar picture -shot from a nearly identical perspective- was printed on the boxes of the first EGGER-BAHN complete sets. These lovely »chocolate boxes« were often bought by mothers and aunts looking for a present...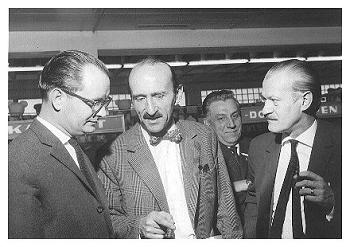 Stars on location...
A year after the initial product launch, the EGGER-BAHN was widely known and happily accepted in the model railroader's scene. On this charming photograph taken at the EGGER booth of the 1964 toy fair, you can see: Dipl.-Ing. Theodor Egger (left), Werner W. Weinstötter (»WeWaWe«, right, the leading journalist of the German »Miba« model railway magazine) and Hans Sachs, a reputated prosecutor of the Nuernberg state court. Hans Sachs was quite prominent in Germany because of his virtually decade-long participation in the popular »Who am I« television quiz game show, but he was also a dedicated model railway collector. The identity of the fourth gentleman in the background remains a mystery...